A while ago my mother in law gave me this book of amazing desserts and sweet things. Even though it was late at night when I got my first chance to look through it, I stayed up drooling over all the recipes dreaming about all the delicious things I could make.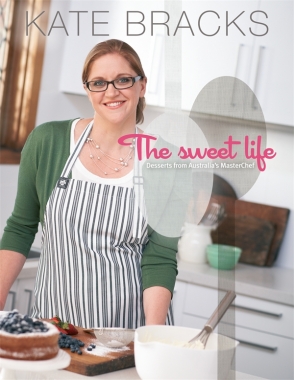 Buy it if you don't have it already!
I have been wanting to make a cake or tart with some canned peaches that I have had sitting in the cupboard for a while and was inspired by one of the recipes on Kate's book. It was the first thing I have tried from this cook book but there are so many more I want to try.
Here is my version of her recipe
Peach, Maple & Macadamia Upside Down Cake
Topping
½ cup (125 ml) maple syrup
¼ roughly chopped macadamias
Cake
½ cup (125 ml) of maple syrup
Extra peaches and syrup from can
½ of roughly chopped macadamias
Thick double cream to serve
1.

     

Preheat oven to 170 degrees. Grease a 23cm round cake tin (not a springform one –I only had a silicone one) and line with baking paper.
2.

     

For the topping, combine sugar and water in a small saucepan and heat on low until the sugar has dissolved. Add the maple syrup and stir to combine. Increase heat to medium and boil for 6-7 mins. Take of the heat and add the butter whisking until it is all combined and slightly thickened.
3.

     

Pour half of the topping into the cake tin and put the rest aside. Lay out the peach slices to cover the bottom of the tin (save any excess for the cake batter). Sprinkle chopped macadamias over the peaches.
4.

     

To make the cake batter beat the eggs, sugar and vanilla in the bowl of an electric mixer until pale and think. Fold in the flour, then the maple syrup then the melted butter. Finally stir through the remaining peaches and macadamias.
5.

     

Carefully spoon the batter over the peaches making sure you don't disturb the pattern (I wreaked mine a bit but it still tasted good. Bake for 1 hour or until a skewer inserted comes out clean.
6.

     

Allow cake to cook in the tin for 5 mins then turn out onto a serving plate. Drizzle with remaining syrup and served with cream.